I have not been blogging as long as many others, but throughout this time I have grown to love and respect a group of truly inspirational women, their blogs are warm and funny, and their support for each other is out of this world.
One particular blog has captured the hearts of everyone, Kerry over at Multiple Mummy.
I
've never met Kerry, but I have loved reading her blog. In the Summer she suffered a brain haemorrhage due to a ruptured aneurysm. Since then she has been in hospital, leaving her husband to look after their three small children and keeping the world updated through her blog.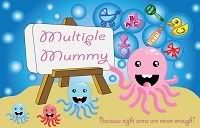 Although I have never met Kerry, looking at all of the photos and listening to so many stories, I know that if I ever get the chance to meet her, I will love her as much as everyone else does.
Liska from
NewMumOnline
wants everyone to join together on Saturday 24th November and give their positive healing thoughts to Kerry. She writes:
So I ask that you hand over your blog and your heart, on Saturday 24th November and let thoughts of Kerry, aka Multiple Mummy ripple through the cyber waves.




Let us all say a coordinated prayer for her at 10 p.m. on Saturday 24th November.




Of course if you are not religious and do not pray, then medidate, or make a wish, or do what feels right for you.




Please if you can, do a dedicated blog post to her on Saturday so that she has her own HEALING CORNER of the world wide web on Saturday...
So, tonight at 10pm when I am attempting to put all six children to bed, and they are still running around like crazy monkeys, I will look at them, and say a little prayer to wish Kerry a speedy recovery and that she will be home very soon with her husband and little darlings x